Counseling Graduate Assistants
The LAC-DS's two counseling graduate assistants play a significant role in providing academic support services to WFU students. Each graduate assistant meets individually with WFU students to help them refine and develop effective study strategies and skills that contribute to academic success at WFU. Currently, both of the graduate assistants in the LAC-DS are pursuing their MA in Counseling at WFU.
Rachel Burrow, Counseling Graduate Assistant
Rachel is currently a first year graduate student in the Counseling Department here at Wake Forest. She recently graduated from UNC Charlotte with my bachelor's in psychology. Winston-Salem has always been her home and she loves this little city. She enjoys being an academic coach in the LAC-DS because she likes helping students strengthen the skills they already have, as well as learn some new skills that can help them be the best student they can be. Some of her favorite topics to cover in academic coaching are: time management, study strategies, and ways to reduce test anxiety. When she is not on campus studying or coaching, she loves spending time with my family, friends, and sweet puppy Mowglie.
burrowre@nullwfu.edu
Bobby Lange, Counseling Graduate Assistant
Bobby is a first year graduate student in the Counseling Program at Wake Forest and serving as a Graduate Assistant in the LAC-DS. He graduated from James Madison University with a degree in Psychology. After experiencing some of his own adversities and struggles, Bobby has a passion for helping students overcome any hurdles that may prevent them from achieving their goals. 

langra19@nullwfu.edu
Graduate Student Workers & Graduate Intern
The graduate student workers in LAC-DS contribute to the overall operation of the Learning Assistance Center & Disability Services. They are responsible for assisting the LAC-DS staff in managing requests for peer tutors and other academic support services. In addition, the graduate student workers assist in coordinating staff schedules and assistive technology requests, which includes providing texts in alternative format. Our graduate student worker is pursuing an MDiv in the WFU School of Divinity.
Davita DesRoches, Graduate Student Worker
Davita is in her second year of the Master of Divinity program at the Wake Forest University School of Divinity. She is Canadian and completed her undergraduate degree at Acadia University in Wolfville, Nova Scotia and an MA in English at McGill University in Montreal, Quebec before coming to Wake. At LAC-DS, she is responsible for providing students with alt-text and is passionate about working with the LAC-DS staff to make higher education more just and equitable. In her free time, she enjoys reading good novels, drinking (hot) tea, and travelling to be with her family and friends, especially her family's golden retrievers, Gandalf and Pippin, and her niece. 

desrd18@nullwfu.edu
PHONE
336.758.5929
EMAIL
lacds@wfu.edu
LOCATION
118 Reynolda Hall, Hearn Plaza entrance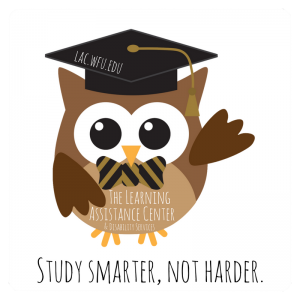 Members of our staff have participated in the following training programs: